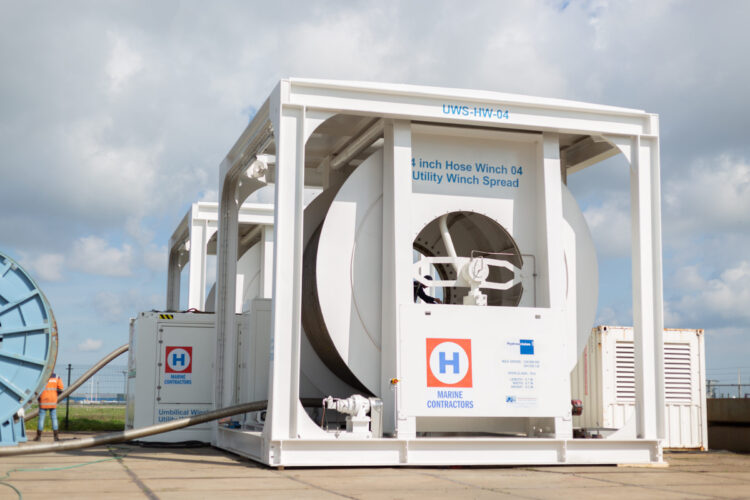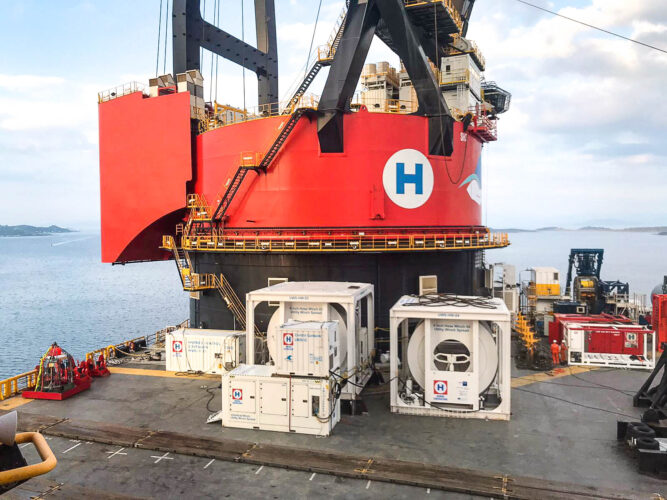 The project
The spread consists of:
2 electric-hydraulic driven Flex Pipe winches for storing 500 meters of 4" Flex Pipes
20 ft. Utility Winch Container, containing one winch for storing the umbilical cable and one winch for storing the airhose
RCC, Remote Control Cabinet, which is located in the control container
Wireless remote control
The Flex Pipe winches supply and drain oil from the HPU to the hydraulic hammer. The umbilical cable contains the electrical control of the hammer and transfers the data from the sensors in the hammer to the control system. In the control system, the hammer is controlled and the pile driving operation is monitored.
The compressed air is led tot he hammer via the air hose and creates an air bubble around the head of the hammer to push the water away. This way, the hammer doesn't strike the water directly, so the energy of the hammer is not absorbed by the water.
Our approach
The winches are engineered and built by Hydrauvision. The steelconstruction of the two Flex Pipe winches is built by Overlasko in Vlissingen. The Flex Pipe winches are provided with spool devices to properly unroll and roll up the Flex Pipe. Furthermore, the drive of the winches is fully redundant; a dual pump set in the HPU drives the hydraulic motors. The spread is designed in such a way that the 4 winches can run synchronously and can be operated locally as well as remotely. In addition, it is possible to operate the installation completely wireless with a joystick.
The total weight of one Flex Pipe winch without Flex Pipes is 65.6 tons. The Flex Pipes themselves weigh another 45 tons. Both Flex Pipe winches have a pulling force of 400 kN (40 tons). The air hose winch and the winch with the umbilical cable both have a pulling force of 40 kN (4 tons).
The spread is commissioned by Hydrauvision on board of the Heerema Sleipnir, just like the Hose reel sets in April this year. The sets are involved in installing the heaviest duo-lift jacket installation at the Johan Sverdrup field in Norway.