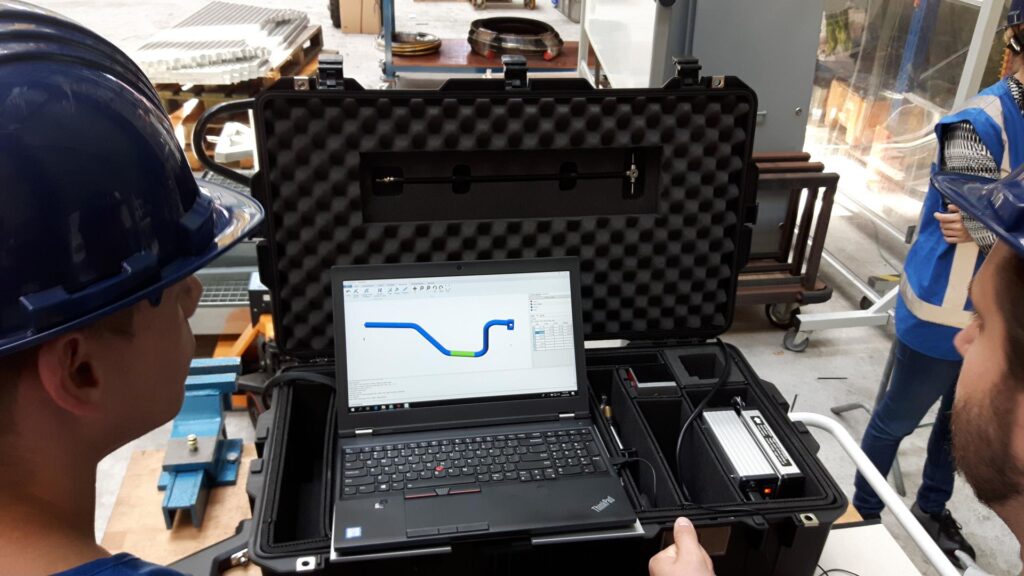 To be able to serve clients in the offshore, shipping and industry even better, Hydrauvision has recently commissioned a high-tech mobile measuring system to measure curved pipes on site at the client's or in the workshop. In combination with the new extra CNC bending press, hydraulic pipes  can be made perfectly to size. The new system is ideal for quickly and accurately replacing existing pipes and also to optimise these or adapt them for a new situation. For example, if extra components need to be installed.
The new system consists of a 3D camera and wireless recording system which automatically generates a 3D drawing. Depending on the order, the data can serve as direct input for one of the CNC bending presses, even when it concerns complicated, multi-curved pipes. The information can also be used by engineers to optimise the piping before sending it to a CNC press.
The advantages of the new combination include the speed and accuracy with which new pipes can be produced. While existing piping and components are fully taken into account. Additionally, it is possible to improve the design by standardising the bending radius, rationalising the lengths or otherwise adapting the shape.
Existing pipes do not need to be disassembled first. Instead, they can be measured on site. Thanks to the accuracy of the system, it is not necessary for a specialist to make adjustments at the last moment, on site. In this way, any downtime is kept to an absolute minimum. At the moment, Hydrauvision is the only company in the Benelux which can work in this manner.