Fire fighting/water pump systems
Hydrauvision develops and builds large-scale fire fighting and water transport pump systems. Such a pump system is used in firefighting (FiFi) and flood relief, being characterized by large volume flows, mobility, rapid set-up speed and flexibility. We design each large-scale fire fighting and water pump system according to customer specifications, but always begin with a solid foundation for an optimized system.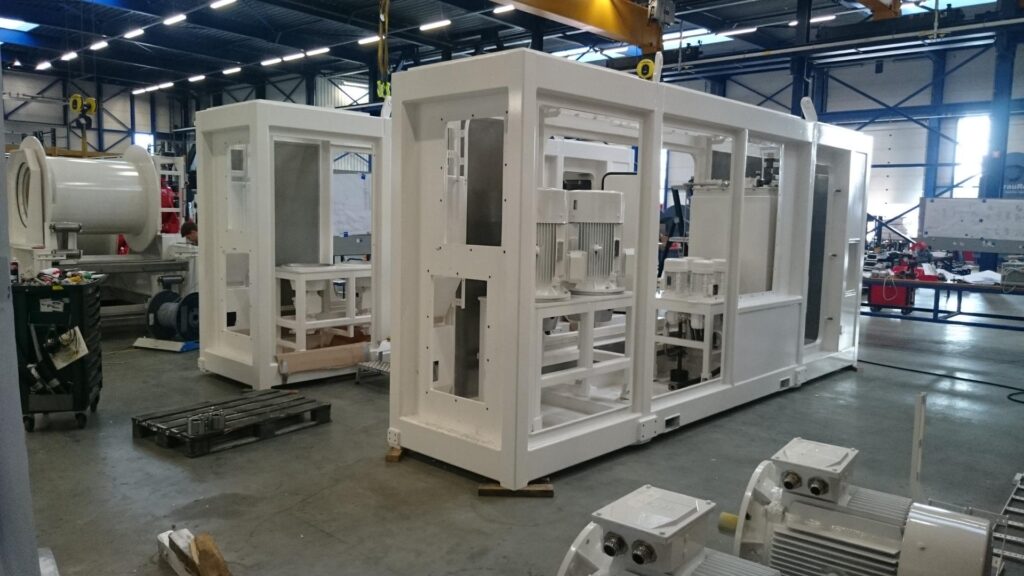 We can create your optimal fire fighting (FiFi) water pump system
Our mobile water pump systems for fire fighting are built with a capacity of 4,000 LPM to more than 50,000 LPM to a pump set, of which several are often linked together to meet the desired water requirements. In this way, we have a suitable pump for every situation. The basic characteristics of our mobile water pumps are the system's design and the mobility. When using a pump set, you can easily combine multiple components. There are four scenarios for this:
Usually, water can be sourced from a fixed location – such as a well – which is never too far below the pump set. We build diesel driven pump sets that can work with water up to 5 meters deep. The centrifugal pump is primed by a vacuum system. This pump set is characterized by its simplicity and a short installation time. The disadvantage is that the water must be close to the pump set.
If the water is further away and deeper than 5 meters, then a submersible pump is necessary. This submersible pump is hydraulically driven by a diesel power pack. This means that the submersible pump can operate up to 100m from the hydraulic power pack that drives it.
If the desired capacity of the pump system is large and the needed pressure high, such as with fire fighting (FiFi) applications, it is often good to combine the submersible water pump with a booster pump. This allows the advantages of a submersible pump (flexibility) and a booster pump (high power) to be combined.
Due to the hose resistance, the pressure decreases over long distances during water transport. This can be increased again by including a so-called booster set.
Would you like advice in determining how to best configure your fire fighting (FiFi) water pump system? Our experienced engineers will advise you on a solution tailored to your specific situation.
Possibilities of Mobile Water Pump Systems for fire fighting (FiFi) and other purposes
To deploy pump sets for fire fighting and flood relief quickly and efficiently, different versions are available. The pump sets can be designed as hooklifts or as trailers. The hook lift bucket can be transported quickly and over long distances and can be easily dropped off on location. Of course, the condition is the presence of a hooklift compatible vehicle. The version on a trailer is slightly less mobile, but can be more suitable in certain situations. Together with our partners, we offer complete systems, service, maintenance, overhaul and modification. Contact us for more information about the possibilities by calling +31 88 57 47 000.